Oooyeah, I am still in Bangkok (emotionally), but in fact, I am back here to Malaysia (sigh). Kick away the emo side - I am bringing you my 3rd day in Bangkok! Frankly, our 3rd day was nothing much special as we had already been to
Floating Market
,
Temples
and
Calypso Cabaret
on our 2nd day.
Therefore, on our 3rd day, we have decided to walk all the way from Chinatown (where we are staying) to Bangkok town. Yes, we placed our trust on our Ipanemas. We were sweaty yet it was hell lotsa fun! ;)

Backstreet of Chinatown.



His shirt says "lazy" but our spirit ain't not!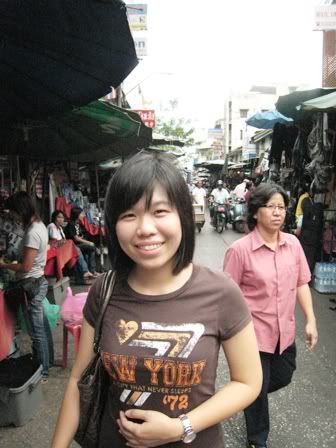 Holding to my stomach as if it's bloating wtf.



Morning market to perk our day.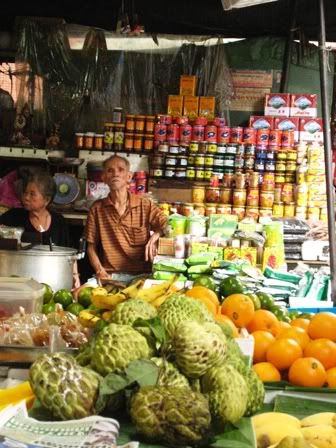 Tulan-looking uncle. :o



More photos of Chinatown coming right up...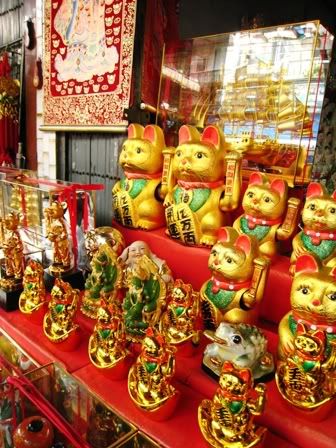 "Meowwww"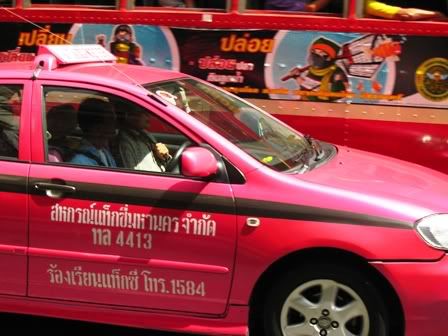 Pink Altis - I like! :D



As we followed our instinct, we bumped into a stall by the road side offering traditional threading services. I stand by her stall for about 15 minutes, when the little voice in my heart said, "Go for it!".



To go for it, or not to go???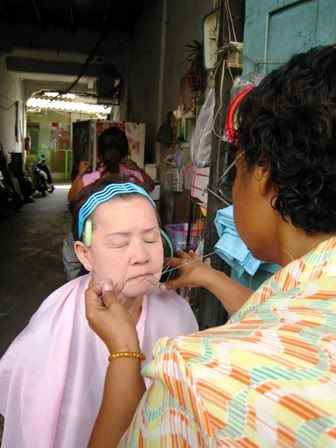 Looks painful to me, but as I stare at her skillful techniques I went on to try my very first threading! Oh, there goes my very first time...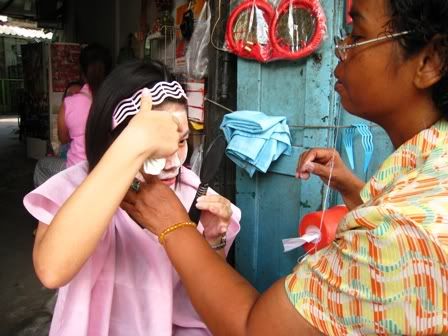 First, you clip away your hair and put the ugly hairband on you. Next she will powder (with
bedak sejuk
) your face damn white, it made you looked like ghost. The powder gives my face a cooling tingling sensation.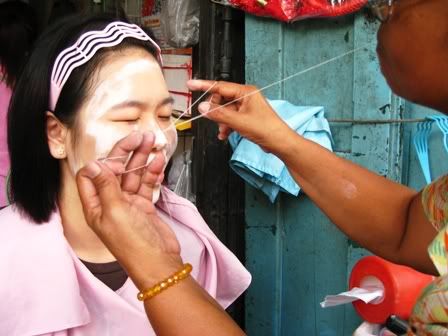 And let the painful procedure begins.. :k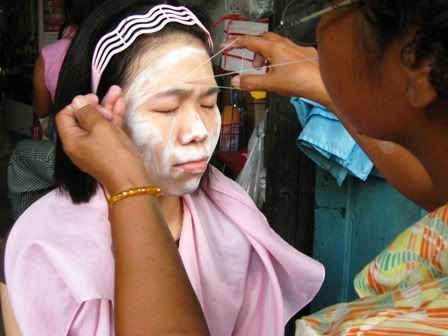 Ouch ouch! It was indeed painful when she pulls away my baby hair.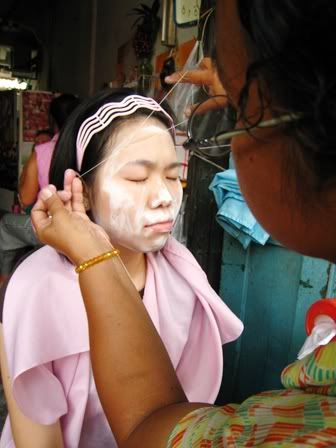 The whole procedure takes about half an hour. After the first 10 minutes, I felt immune to the pain. :)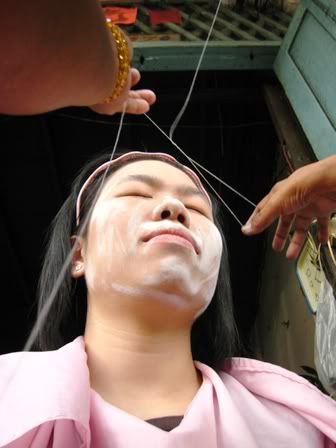 Stare at my cute nostrils wtf.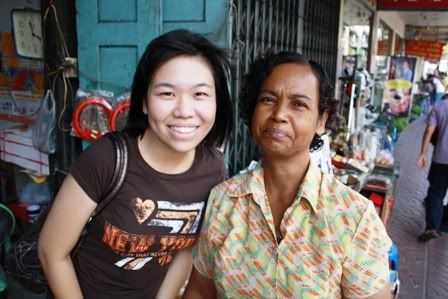 Taadaa!!! The final product of her skill - (too) fair, smooth and hairless face. The fairness was caused by the leftover from the face powder (
bedak sejuk
) and it made me fugly in this photo. But for the sake of showing the final product (me), sigh, nevermind that I looked like a ghost/make-up malfunction.
We continue with our walkathon journey to Bangkok, and we saw bunches of chinese sausages hanged by the roadside: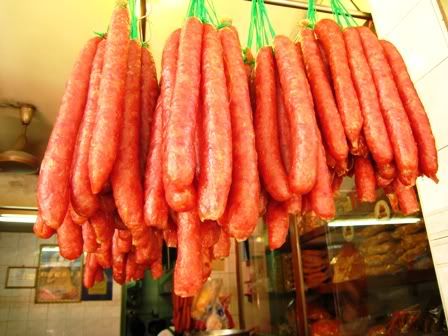 Thailand's chinese sausages are so yummy! We had these at hotel's daily breakfast as garnishes for porridge. We fell in love with it's taste! :) Oh my gawd, it's so yummy we bought a kilo to bring back home.


Not forgotten - pork floss. ;) *wink*wink*



As we walked and walked, we have finally reached the nearest subway (Station: Hua Lum Pong). A relieve to my poor legs. Phew... We took the Skytrain to the next interchange station.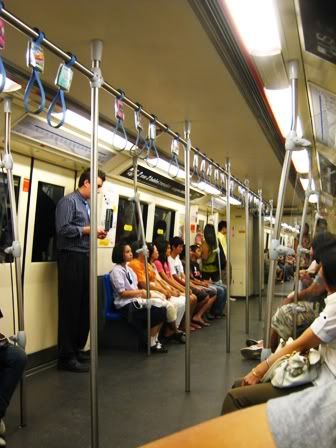 We discovered this as we walked to the nect interchange station: Yum saap (read this ala Cantonese slang, and repeat it twice: yum yum saap saap!!! Hahaha... get it get it?). "Yum yum saap saap" means
HORNY
in Cantonese :D Hahaha... To go yourself horny, you know what to do, right? ;)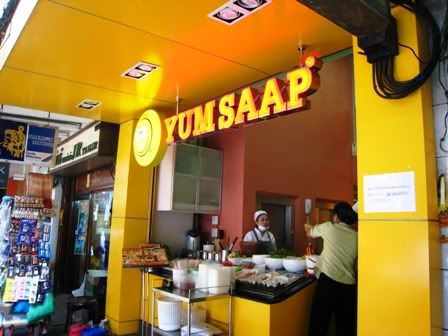 Oooo... horny~~~ ;)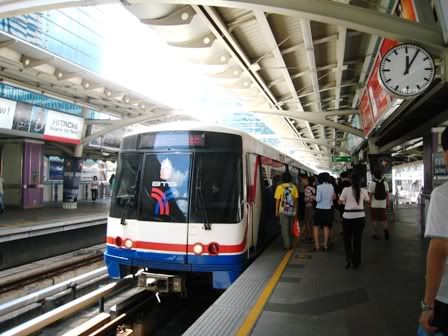 Look particular familiar to our very own LRT?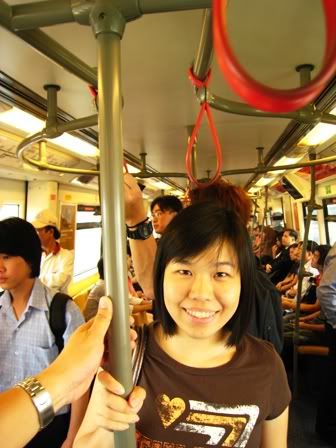 Smooth fair skin tralala I like *heart melts* wtf.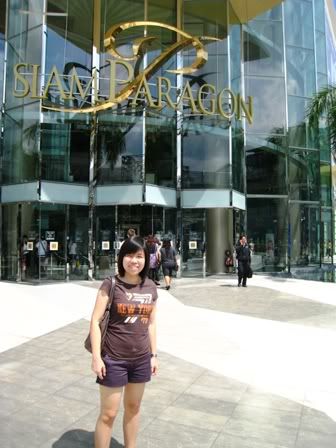 We have reached Siam Paragon. Nah, it's nothing special, it reassemble our very own Pavillion KL.



Green concept of shopping mall.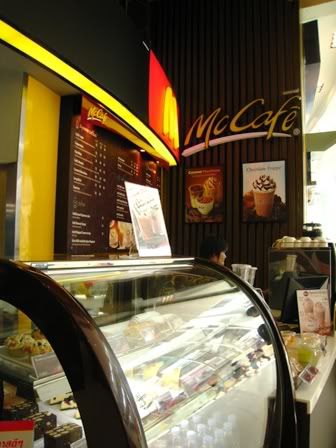 They have McCafe in Bangkok! They serves cappucino, latte, cakes, cornish etc, just like Secret Recipe! :) Why McCafe isn't available in Malaysia?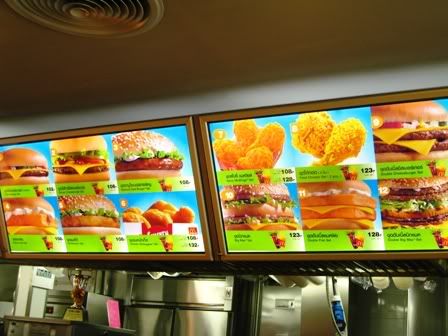 One thing I must try in Bangkok - McDonalds! Haha, call me dumb for having McD in foreign country. I'm not ordering the usual McChicken, Filet 'O Fish or Big Mac. Instead, I ordered
Pork Burger
!!! :)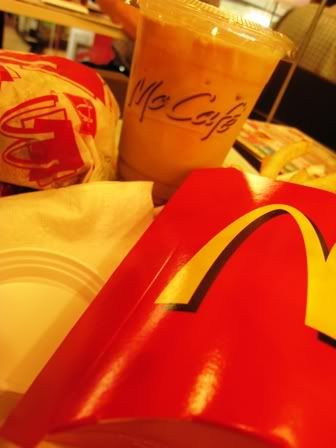 We upgraded Coca-Cola with McD Latte.



Taking picture with Pork Burger ala acting very touristy wtf.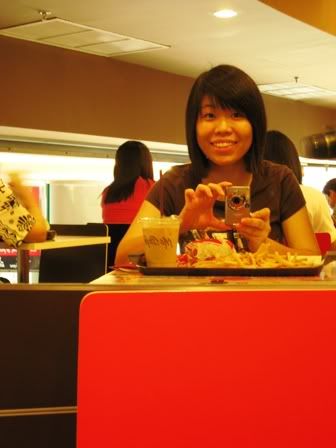 Me camwhored while WH went to wash his hands.





Oh so yummylicious scrumptious McD Pork Burger! I want this in Malaysia McD!!!


Well, if you are looking for bargain and low prices, then Siam Paragon isn't your cup of tea. Well, it sure ain't our cup of tea. We left after a round of short tour in Siam Paragon and Siam Discovery Center - and we head on to MBK (again)! Yes, we went to MBK

twice

in 3 days. I'm loving the bargain and everything they offered there.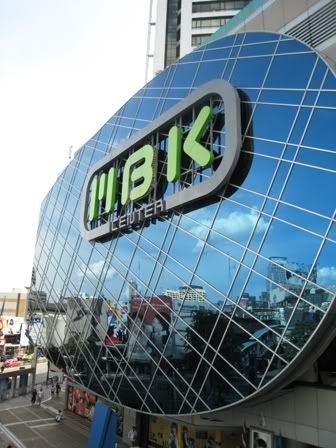 My shopping haven.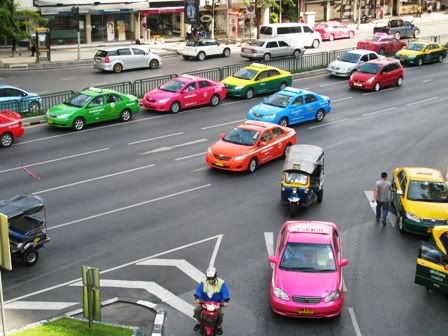 I'm loving the array of colors...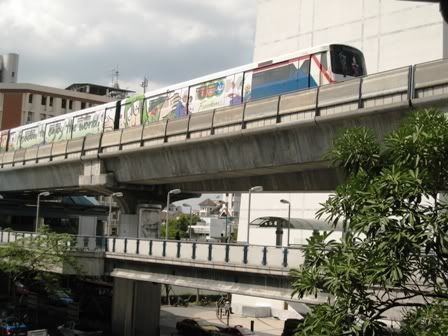 Double storey subway system.



If you have been following my previous Bangkok post, you must have realize that we haven't indulge ourselves in Thai massage. For so many kilometres that we walked, it's time for us to pamper our feet. :) We went to "Relaxation" at 7th Floor of MBK.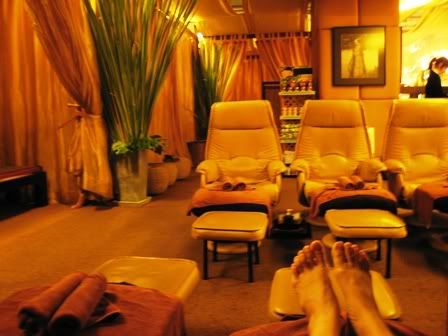 Hah, that's my lil feet!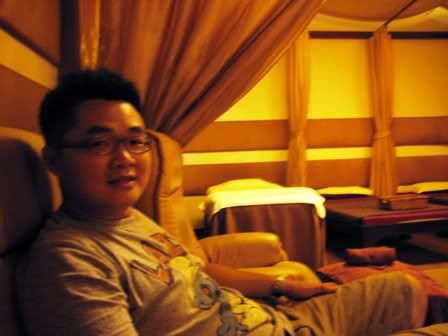 Great ambience and soothing music to calm your soul.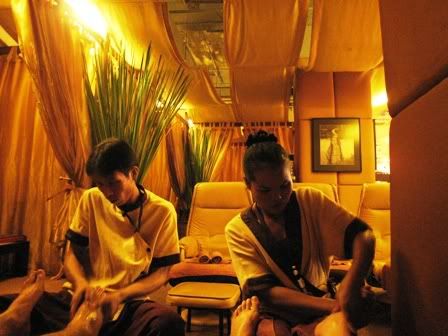 They are working on it!!!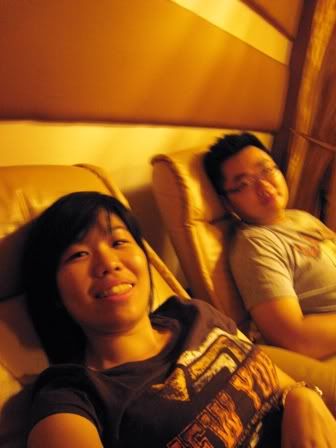 Oooyeah, we are enjoying the moment.


Right after that, our stomachs are growling and in need of food. We chose to dine at MBK's food court. Clockwise from top: Duck noodle, mango salad and fried macaroni Thai style. My verdict:
ALL ARE SO YUMMY!!!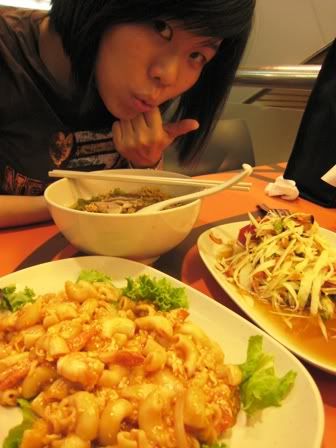 Thumbs up for all of them!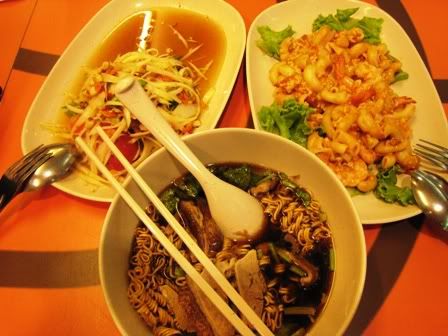 I wanna make you drool~ ;)



YOU CAN'T MISS RIDING TUT-TUT when you are in Thailand! One golden rule: remember to bargain with the tut-tut driver. And because you are a tourist, they charged you more than taxi drivers! But for the fun and experience of a lifetime, you must TRY this for once.

Like us!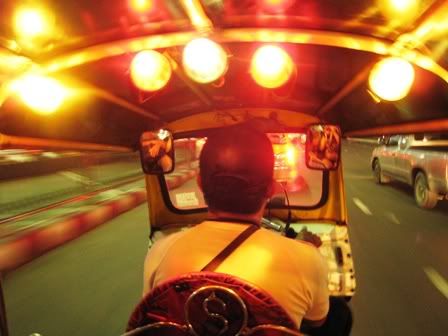 Excitedly fast and furious!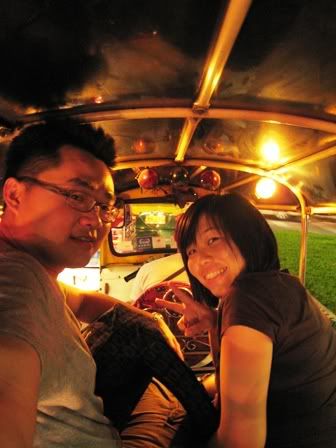 We finally able to capture one "proper" picture after the tut-tut stopped at the traffic light.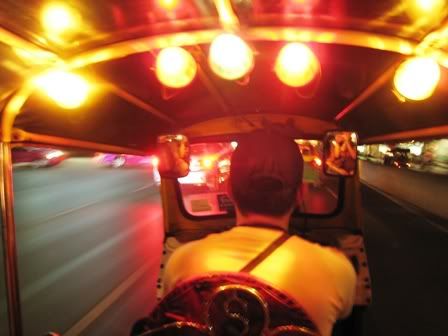 They go REAL fast. Hold on to whatever you can!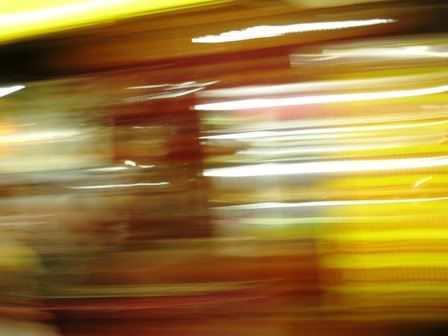 (O___________o)



We reached Chinatown and our walkabout continues. Yes, we are not stopping! It's only 9.45 pm, the night is still young.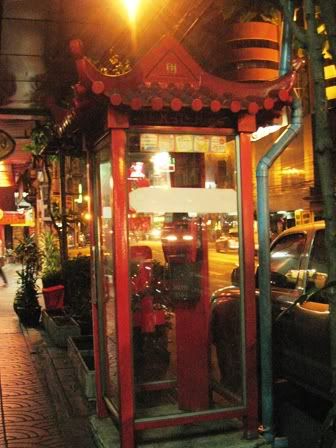 Very Chinese telephone booth indeed.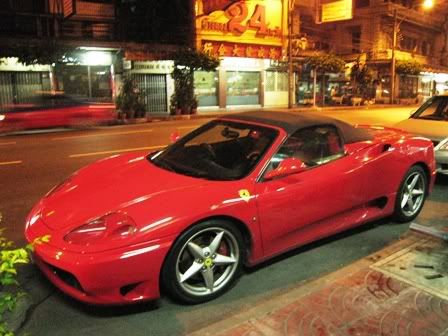 Ooolala~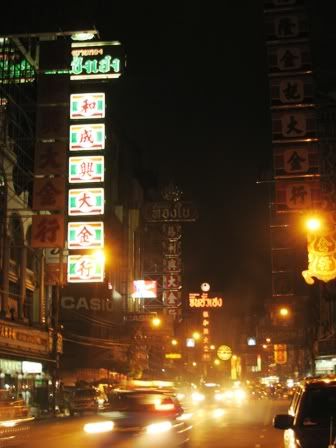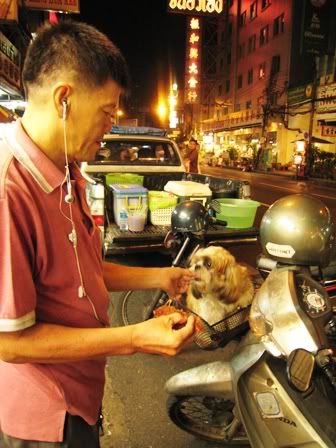 Aww... so sweet of Uncle to buy and feed a pork slice for his Shih-Tzu...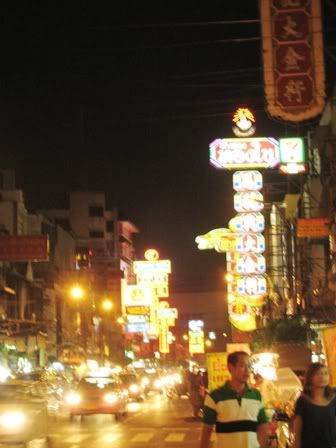 Ain't the colorful signboard looked like the one in Hong Kong?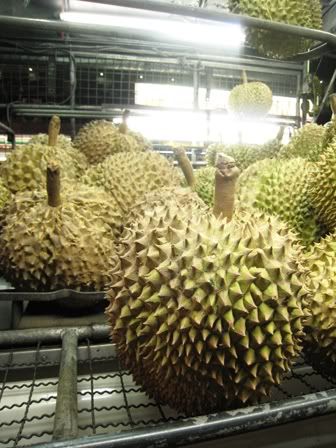 Familiar to you right?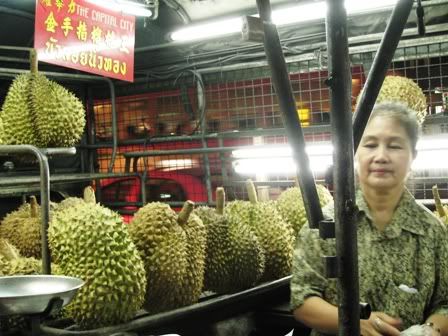 But have you spotted durian with the size LARGER than our head???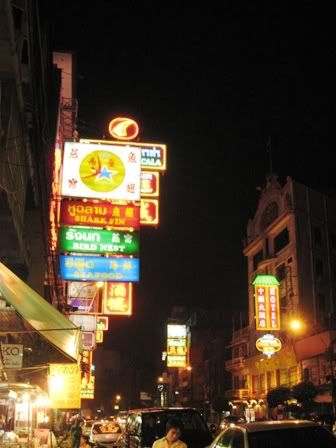 3 down, 1 more to go. Yes, 1 more day to ramble about. My forth day in Bangkok - coming soon.

P/S: Hooray, I am joyful as my relationship with WH will reach 3rd year anniversary (8 days later)! :k To celebrate our 3rd anniversary, we will be away from Malaysia for 6 days! Where we will be going? A small secret that I will keep for another 8 more days... ;)